1923
The U.S. Post Office begins air mail service with flying postmen, most of them World War I veterans. By 1924, coast-to-coast air mail service is reduced from 82 hours (air and train) to just 32 hours.


February 2, 1925
The U.S. Congress authorizes the Postmaster General to award air mail contracts to private companies, and, as new companies form to bid on routs, commercial air transportation is born.


April 6, 1926
Varney Airlines begins the first continuing contract air mail service in the U.S. from Pasco, Washington, to Elko, Nevada, via Boise, Idaho. United Airlines' history begins with this flight, piloted by Leon Cuddeback in an open-cockpit Swallow biplane.


May 12, 1926
National Air Transportation begins air mail service over Chicago-Kansas City-Dallas.


September 15, 1926
Pacific Air Transport begins air mail service along the west coast from Los Angeles to Seattle. A stouthearted passenger can accompany the mail bags for $132.


October 30, 1928
United Aircraft & Transport Corporation is formed as a holding company for Boeing Airplane Company, Boeing Air Transport, Pacific Air Transport, and Pratt & Whitney.


May 15, 1930
Boeing Air Transport (BAT), which began San Francisco to Chicago service in 1927, makes aviation history by inaugurating flight attendant service. The world's first flight attendant was Ellen Church, an nurse from Cresco, Iowa, who persuaded the company to initiate inflight service on a three month trial basis.
The original eight stewardesses flew in a 12 passenger Boeing 80-A aircraft between San Francisco and Chicago via Cheyenne, a trip that took 24 hours. At the end of the three months, BAT declared the experiment a success and hired 20 additional attendants. Other airlines soon followed BAT's lead.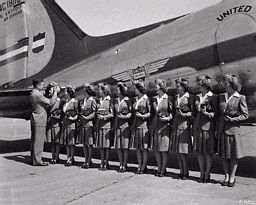 DATE
United takes delivery of the first Boeing 247, a two engine, ten passenger, all metal, low wing aircraft. Coast-to-coast flying time si reduced to just 19 hours.

1934
United Air Lines, organized in 1931 as a management company for four of the first commercial carriers: Boeing Air Transport, National Air Transport, Pacific Air Transport and Varney Air Lines, becomes a separate business entity.

1934
William A. ("Pat") Patterson's tenure as Unite's Chief Executive. As a young Wells Fargo Bank officer, Patterson was drawn into the airline business after making a controversial $5,000 loan to a "flying machine" company, Pacific Air Transport. More than 30 years at the helm, Patterson guided United through its formative years and into the jet age.

July 1, 1934
United begins service to Canada.

DATE?
United establishes the first airline flight kitchen in Oakland, California for the preparation of inflight meals. Also, United introduces twin-engine 21 passenger DC-3 into airline service.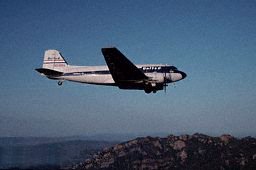 1937
Luxury "Skylounge" service is introduced between New York and Chicago. Overnight sleeper service is introduced coast-to-coast.

August 22, 1938
The Civil Aviation Board is established, ending Post Office control of U.S. airlines.

May 1, 1947
United begins service to Honolulu from San Francisco.

1948
Aircraft maintenance is centralized in San Francisco. On July 8, United carries its 10 millionth passenger.

1951
United orders 30 twin-engine Convair-Liner 340s for $16.5 million, and subsequently increases the order to 55. Four-engine, 66 passenger DC-4 Mainliners fly coast-to coast in 14 hours at 230 mph.

1953
United and RCA begin developing airborne radar for weather mapping.

May 6, 1955
United begins first non-stop flights between New York and San Francisco with flying time only ? hours.

October 25, 1955
United places the first order for jet aircraft. #? Douglas DC-8s for $17 million.

1960
DC-8 nonstop Chicago to Honolulu flying time is just 7 hours, 52 minutes.

June 1961
United and Capital Airlines merge to create the worlds largest airline. In December, United moves its headquarters from Midway Airport to a 51 acre office complex near Chicago's O'Hare Airport.

December 1964
United becomes the first domestic carrier to install a fully automatic, all-weather landing system.

October 1965
United Launches its "Fly the Friendly Skies" advertising campaign.

August 1, 1969
United becomes a wholly owned subsidiary of a newly formed holding company, UAL, Inc.

July 31, 1970
UAL, Inc. acquires Western International Hotels, which becomes Westin Hotels in 1981.

March 1972
United's pioneer passenger reservation system, Instamatic, is retires as a new computer reservation system, Apollo, takes over.

December 1976
United offers travel agencies a computerized system for handling reservations.

October 1978
Passage of the Airline Deregulation Act calls for the gradual elimination of Civil Aviation Board regulatory functions, freeing airlines to price their services and to select routes.

December 20, 1980
United begins service to Mexico.

May 6, 1981
United announces "Mileage Plus," a program offering incentives to frequent travelers.

April 1, 1983
More than 17 years after first applying for the route, United begins its first scheduled service outside the North American continent with non-stop service between the Pacific Northwest and Tokyo, followed in May by non-stop service Seattle to Hong Kong.
United establishes a West Coast hub at San Francisco.

August 30 1985
UAL, Inc. completes its purchase of the Hertz Corporation.

February 11, 1986
United completes its purchase of Pan Am's Pacific division for $715 million and begins service to an additional 11 cities for a total of 13 cities in 10 Pacific Rim countries.

May 1, 1985
United begins its new East Coast hub operation at Washington, D.C.'s Dulles International Airport.
United forms joint marketing ventures with commuter airlines: Air Wisconsin, Aspen and Westair, creating United Express service.

June 9, 1987
Chairman Richard Ferris, architect of the Allegis integrated travel services strategy resigns. Board of Directors announces a restructuring plan that includes the sale of the non-airline businesses: The Hertz Corporation, Westin Hotels, and Hilton International Hotels.

August 1987
At Chicago's O'Hare Airport, United opens its dramatic state-of-the-art, 48 gate Terminal One, which can accommodate 18 widebody aircraft at one time.

December 10, 1987
United and British Airways initiate a worldwide marketing partnership with shared facilities, coordinated scheduled, one-stop check-in, joint pricing and marketing programs.

March 1988
The Company completes the restructuring and returns to the core business of running an airline. Om May 26, becomes UAL Corporation with United Airlines as its principal subsidiary.

August 5, 1988
United completes its sale of 50% voting interests in the Apollo computerized reservation system, held by the Covia Partnership, which includes Alitalia, British Airways, KLM, Swissair and USAir.

United announces the largest order in the industry's history, ordering 370 narrowbody and 32 widebody aircraft.

July 1989
United announces its plan to begin service to Europe in 1990.

September 1989
United is the first carrier to offer Boeing 747-400 service between the United States and Australia. In December, United offers the first scheduled B747-400 service between San Francisco and Hong Kong.
United becomes the largest trans-Pacific carrier, surpassing all major U.S. and Japanese competitors.

1990
United announces its plan to establish a major maintenance facility east of the Rockies. (IND)

May 15, 1990
United inaugurates European service to Frankfurt from Chicago's O'Hare and Washington, D.C.'s Dulles International Airports.